I am actually doing super great! I hope you are too. By the sound of it, you all are just loving life, so that's sweet!
I'm jealous you got to go swimming! I got to walk across a river barefoot, but the water was only up to my ankles. It was refreshing anyways, except for all the sharp rocks jabbing my feet every step. I was on exchanges in the other Elders area, and usually there is a boat to ferry people across, so we did that, but on our return the river was too low for the boat to operate, because it is affected by the tides so we stripped off our socks and shoes and walked it. It was super cool. We saw this lady carrying a bucket and when we got closer we saw what was inside and it was super cool. It was an octopus. I'd never seen an octopus in the wild before. I guess technically it wasn't wild anymore, but still. It was just freshly caught and still alive just chillin' in his bucket. I guess catching octopus isn't super uncommon here. An investigator in the other Elder's area is an octopus hunter and he turns them into adobo. It's actually pretty tasty! Super chewy! Kind of like if you popped some gum in your mouth during your 9:00 sacrament meeting and continue to chew it all the way to dinner that evening. It's about that consistency. Octopus in Tagalog is "pogita". So now if anyone ever asks you if you've had pogita adobo, you can at least know what they're talking about. :)
mmmmm....yum yum!!!
That's so funny there was a skunk in the back yard. There is an animal here called a pantot, and apparently Aborlan is full of them. I've never seen one, but it's not hard to know when they're around (if you know what I mean). One of the members was saying, "when you are coming home from Puerto, and it starts to smell really bad, you know you're close to Aborlan. haha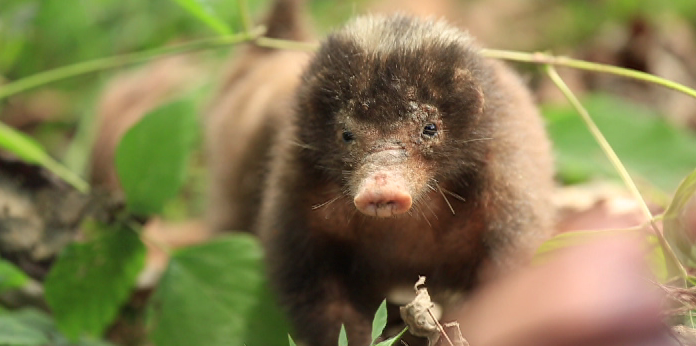 It's not a pig, it's not a bear.. It's the Palawan Stink Badger or pantot
I'm sorry to hear about your sucky parade [FYI this was not in reference to a LaVerkin parade]! There was a parade here a couple weeks ago, but it was scheduled right during our personal study, so we weren't able to see it. One of our investigators kids was in it though. I was bummed to miss it, but I can attest, there was definitely a marching band!
This Saturday we have another baptism, so we're super pumped about that! She is amazing!!! She just passed her interview last Saturday, and is super prepared. Her boyfriend is a member so she has a super great fellowshipper. haha Elder Call is the one who interviewed her, but he told me afterward that he asked her "Why do you want to be a member of the church?", and her answer surprised him so much. She said, "Because of the Law of Chastity." Then she explained that she really wanted a church with high standards, and that's what did it for her. She is sooo prepared!! I'm super excited for her baptism!!!
If it's not too late for you to add something to your list of thing to send me, along with the candy corn if you could send some Smarties too, that would be fantastic!!! I think it would really help with my learning Tagalog. I had a bunch in the MTC that I brought from home, and I think that's why I was learning so fast back then, but I'm all run dry for months now. If there is any extra space, a green tie would be nice too! :) hahaha
We just had our interviews with President Ostler last week, and that was super great! He is so wise! He has over 200 missionaries here, and he takes the time to talk to each of them personally. Some of them don't even speak English, and he is still able to help them. I don't know how he does it. What was even cooler is that he came to our branch for church yesterday. He gave a super neat talk and was after church able to interview some recent converts of ours to go to the temple. They are on their way to Manila right now to get sealed together to their families for eternity. The gospel's pretty cool how it can do stuff like that!
So yeah. That's what's up with me. I'm glad you are all doing well and being happy! Masaya din ako! Mahal ko kayong lahat!!! (
I'm also happy! I love you all!!!)